IMPORTANT INFORMATION
We hope all our customers, old and new, are safe and well
Due to COVID 19, we are working under the following temporary arrangements:
• Our Reception and Showroom will regrettably NOT be open to visitors.
• Our incoming phone lines will be open 10.00am to 1.00pm and 1.30pm to 3.00pm, Monday to Thursday only.
REDUCED STAFFING LEVELS
Due to some of our loyal staff having to isolate because of COVID-19, we are already experiencing staff shortages across our business and anticipate this situation continuing during the Pandemic.
EXISTING ORDERS
If you have an order already placed with us, the lead time originally discussed with you will very likely now be lengthened.
NEW ENQUIRIES & CONTACTING US
For any new enquiry, or to contact us regarding an existing order, please email rather than phone, if at all possible. Due to the large number of enquiries we are dealing with, and potential reduced office staff levels, please bear with us while we respond.
We thank you for your understanding during this difficult time and we wish you and yours all the best and hope you can stay safe. We have been in business for 32 successful years and we look forward to serving you for another 32 years!
The Caravan & Boat Seat Cover Centre Team
Introduction
From small beginnings in a wooden shed in 1988, we have steadily grown to be one of the most respected specialist Upholstery and Furnishing suppliers in Britain's Holiday Park Industry.
We've been BH&HPA members for over 25 years and we're very proud that many Park Owners and Managers have continued to use our services for many years… some of them right back to 32 years ago!
Hire Fleet & Sales Static Caravans
If you have hire fleet accommodation or sales units that you feel are being let down by upholstery that's in poor condition, we can professionally re-cover the seating, quickly and cost effectively… regardless of where you're based in the UK.
BEFORE: Tired and dated…
AFTER: Fully transformed!
Depending on your location, we either collect and deliver in our own vans, or if you're based out of area then we use couriers.
We also offer:
• CUSHION REFILLING for those 'saggy' unsupportive cushions!
• CUSHION RE-LINING to replace worn and torn backing fabrics.
•Made-to-measure replacement CURTAINS.
• Caravan size Mattresses and Bedding.
WHETHER YOU HAVE 1 CARAVAN OR 100, WE WILL BE VERY HAPPY TO HEAR FROM YOU… WE PROMISE YOU A FRIENDLY AND EFFICIENT RESPONSE!
To view our full range of over
4,000 searchable Fabrics,

FOR CARAVANS, CHALETS & LODGES, click below to go to our unique… FABRIC SELECTOR
Apartments, Chalets & Lodges
We don't just work on Static Caravans, if you have Apartments, Chalets or Lodges on your Park then we can help with these too! This ranges from furniture and cushion Re-Covering, Cushion Refilling and replacement Curtains.


To view our full range of over
4,000 searchable Fabrics,

FOR CARAVANS, CHALETS & LODGES, click below to go to our unique… FABRIC SELECTOR
Holiday Park Clubs & Restaurants
We can also Re-Cover seating areas and chair pads in any public areas you have on your Park, in a wide range of fabrics which comply with the specific Fire Retardancy Regulations for use in a public area.


Holiday Park Outdoor Furniture
We make made-to-measure cushions for any outdoor furniture or seating areas you have on your Holiday Park. These can be made in a choice of fillings and fabrics, some of which can be left outside in all weathers!


To view our full range of over
4,000 searchable Fabrics,

FOR CARAVANS, CHALETS & LODGES, click below to go to our unique… FABRIC SELECTOR
Holiday Park Inventory Supplies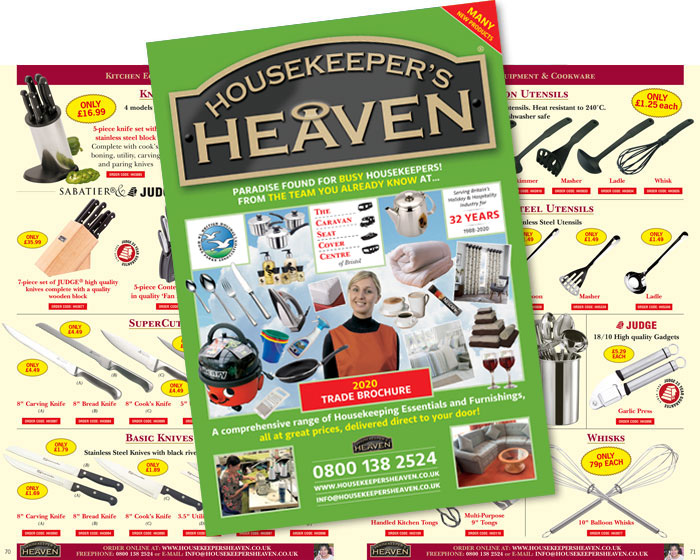 We're also the people behind the Housekeeper's Heaven brochure you receive every January, and the On-Line Store.
What our Holiday Park customers have to say…
We are very proud of the positive things holiday Parks have to say about us, here's just a sample
"A quick Thank You for the excellent service you provided - above and beyond! The seats have all been safely received and installed at Bo Peep - they will be tested this weekend. From the outset, it has been a pleasure dealing with you."
Pete Berry
Bo Peep Caravan Park, Oxfordshire
"We just wanted to say how delighted we are with the new seating. It looks great and is very comfortable." 
Please pass on our thanks to your team."
C & L Fletcher
Golden Sands Holiday Park
"When we do something we do it right. This means spending more money on higher quality equipment, which in turn pays dividends as it looks better and lasts longer. Your outside cushions were an example of this as they cost more than the furniture, but really make the whole set look expensive. They were definitely worth the extra cost and have received a lot of positive comments from our customers."
John Robinson
Bolero Holidays, Italy
"After dealing with you now for nine years the quality has not changed, in fact the first covers we ever purchased are still in excellent condition"
Fort Holiday Park
Isle of Wight